At Uniform Australia, we have a strong focus on customer satisfaction. Please order your garments carefully. If you are unsure about anything including sizing, styling, colours, fabric, or fit, please contact us via this link. We are here to help you choose the right garments.
If for any reason you are not satisfied with your purchase, we will gladly take back the item in its original condition within 14 days of delivery. You can exchange the item for a different style, size, colour or product.  
Unfortunately, we do not offer refunds for change of mind. We provide full store credit, which can be used to purchase any items from our store. 
Items eligible for exchange:
We expect the condition of the garment to be "as new" and in a re-sellable condition.
Must be in original condition (e.g. unused, unworn, unwashed, no make-up stains, no cigarette smell, no pet hair).
Items not eligible for returns
Exchanges of 4 or more items will incur a bulk restocking fee of 15%. This amount will be deducted from your credit total. 
Handling exchanges and returns
To return an item, please email us at sales@uniformaus.com.au - include the style code (SKU), colour, size, and quantity you are intending to return in your email. You will receive a Return Authorisation (RA) number and instructions on how to return your garments. 
If a return is sent back without an issued Return Authorisation Number, staff cannot assist you.
The freight charges incurred to return the item will be your responsibility. We will not credit you for any freight charges incurred. Please email us the tracking information of your return package. Once we confirm the return of the item, you will receive store credit that can be used for purchases within Uniform Australia. 
$ Applying a credit note to your online order 
Login into your account. Use the same email address that you used to place your order with. 
Any available store credit will be shown on the checkout page. Select the credit note to apply against the order.
You will be required to pay the balance if your purchase value is more than your credit. If your purchase value is less than the credit available, the balance will be updated to your credit note and can be used for subsequent purchases.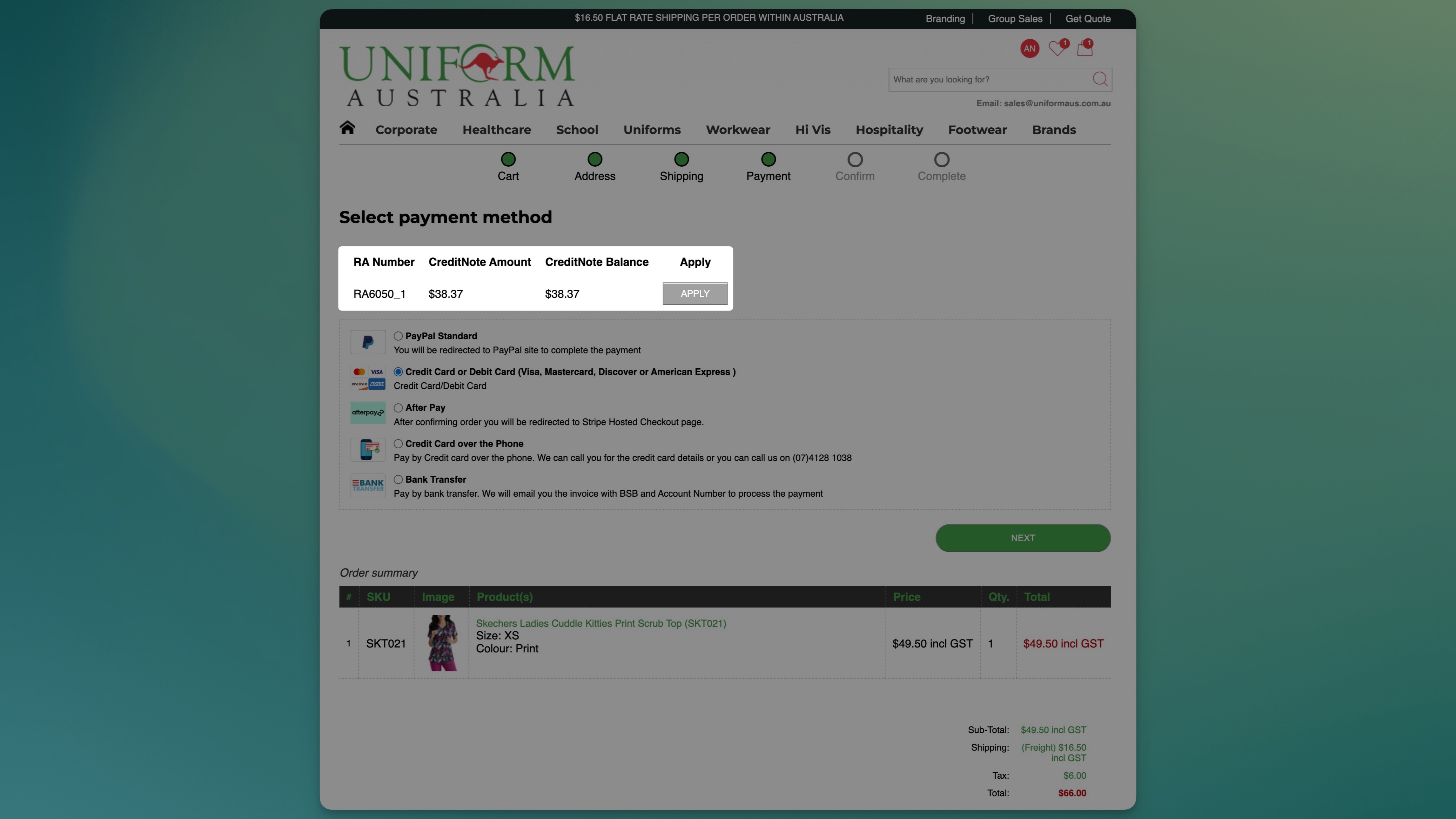 Resolution
After your items have been returned, we will process your store credit within 3 business days. Our customer service team will email you regarding the store credit. Replacement products will be dispatched once the returned goods are processed and the corresponding credit note is issued. 
Faulty Products 
We strive to provide our customers with great products reinforced by exceptional customer service. If you have received a faulty product, please email our customer service team at sales@uniformaus.com.au. We will resolve any problems within a reasonable timeframe.
To review a faulty product, please send us detailed photos of the defect or fault via email. We will evaluate the defect by comparing your photos to the completed order. You may be asked for detailed descriptions to assess the claim.
The product will not be deemed faulty if, in our reasonable opinion, the product has become faulty post-sale due to fair wear & tear, misuse, failure to launder in accordance with the manufacturers' care instructions, use of the product in an abnormal way or failure to take reasonable care of the product.
We will fulfil any and all obligations as per Australian Consumer Law regarding faulty items. In most cases, it will be remedied by repairing or replacing the garment within a reasonable time frame & returning it to you.
Our Customer Service Policy
For circumstances where Uniform Australia can not deliver the item, the item is on back order or the product is discontinued, a full refund for those items will be provided. Where garments are supplied incorrectly or are faulty, we will provide a reply-paid post label to send the garments back to us.
FAQs
Why is full store credit offered, and not a refund?

As a distributor of uniforms and workwear, we do not keep most items in stock and instead bring them in as per orders. This means that when a customer returns an item, it cannot be simply put back on the shelf for resale. Instead, we return the items to our supplier, which incurs additional costs and time. To offset these costs and ensure customer satisfaction, we offer store credit for returns rather than refunds. This allows you to choose a replacement item from our range of over 9,000 products. We hope this policy helps to ensure your satisfaction with our products and services.
I've thrown out the packaging the order came in, can I still return it, or will I have to buy a new satchel?

Good news! You can still return the items, just as long as the items are sealed up properly in a spare shopping bag or plastic bag, with the return label and address clearly labelled on the front of the parcel. Once you have done this, take it to the post office or put it in a post box for return.

How will I know you have received my return?

Returns can take up to 14 days to receive, so your patience is appreciated. As soon as your return has been processed by our returns team, we'll email you to let you know. Please feel free to contact us if you don't receive an email notification regarding the return.

I didn't set up a username and password when I submitted my order. How do I access my store credit?

Your credit note will be under the email address that you used to complete the order. Set your password by visiting the following link.
Will there be additional freight charges to send my replacement order?

A flat rate shipping fee of $16.50 will be charged to send your replacement order. This covers the costs associated with shipping and handling. This fee ensures that your replacement order is delivered to you safely and efficiently.
Under consumer law, am I entitled to a refund?

Uniform Australia will fulfil any obligations under Australian Consumer Law. You can read about your consumer rights here